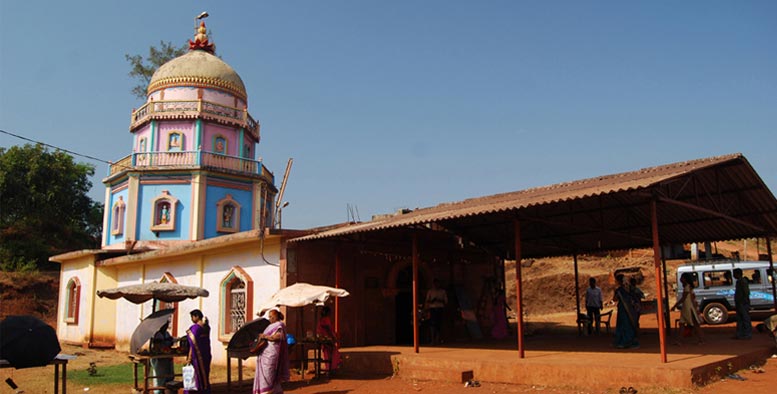 Ganesh Mandir Redi
Redi Village at app 30km from Vengurle is always flooded with Natural beauty as well as the faith and devotion. Redi Beach is a clean, rocky with yellow sand filled beach.
Redi is also recognized for its Ganesh temple. This temple encloses history associated to it. The town in which this temple is situated contains manganese mines and the Ganpati idol was found in one of the mines near Rewati port in 1976.
The idol is 6′ tall and approximately 3′ wide. It is in a sitting position. It is carved from one single black stone and dates back to the early 100s.
Reddi's very famous Ganesh Temple finds its roots in a very intuitive and interesting story. It's believed that every person possesses some sixth sense, but only few are aware of it, and among them very few believe them or listen to them. It's really a miracle, which is beyond layman's understanding.
Its foundation story is a follows: On April 18th, 1976, one truck-driver, Sadanand Nagesh Kambali parked his truck at a particular place. This truck used to ply from Reddi's (iron & minerals) mine to harbour. That truck -driver slept there and he had a dream. In dream, God Ganesha gave him divine appearance and told him to dig at the very same place, since He (God) is residing there. He had great faith in Lord Ganesha.
As per his dream, he started digging there and to the astonishment of all the villagers, there appeared two-handed idol of Lord Ganesha, carved in solid rock. The date was 1st May 1976.
After seeking omen from Gram–Devata (Village deity), it was decided to build a temple at the very spot and establish this deity. After few days, in the same area they excavated a big idol of mouse, which is a traditional vehicle of Ganesha. These idols are very pretty and graceful.
Visit this temple to see how beautifully it is built, get delighted by taking "Darshan" of the adorable deity.
This is a vigilant deity, wakeful towards its devotees' call.
Travel themes invites you to visit the temple to see its unique idol, beautiful surrounding and to observe how a humongous amount of devotees each year on the occasions of Ganesh Chaturthi and Sankashti Chaturthi.