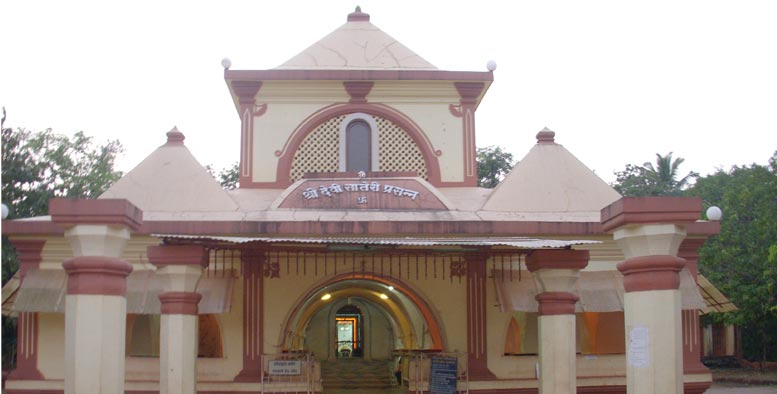 Devi Sateri
Devi Sateri Devasthan is located in a quiet, environment friendly and devoted village of Vetore. Vetore is a lush green village with mainly mango, Cashew & coconut plantation. All the festivals of Devi are celebrated with high devotion & enthusiasm.
Hundreds of years ago, when Vengurle was not in existence, a place called Ansur (situated five miles away from Vengurle) was the center of trade and commerce. Roots of Shri Sateri could be traced back to this place. Original temple of Shri Sateri at this place is known as 'Mul Bhumikeche Mandir'. Rights of this temple are shared by Parab and Gawde families. In those days, a pious man from Parab family used to walk ten miles every day to visit and pray Shri Sateri Devi. As the years passed by and the man grew older, it became more and more difficult for the poor fellow to practice this routine. Still he maintained the prayers with the same intensity and passion.
Sri Devi was pleased to see the devotion and commitment shown by her devotee. She blessed him and promised to end his hardship by coming closer to his home. On the way back, the old man witnessed a stunning scene where a dome like structure was spontaneously rising from the ground. He realised that Shri Sateri Devi is appearing at the point and hugged that structure with extreme happiness. He asked Shri Devi to stay there and stop growing. Instantaneously the structure stopped growing. That location is nothing but today's Shri Devi Sateri Mandir.
In the local language (Malvani which is a spicy dilect of Marathi language) VENG menas a hug and URLE means remaining. That is how the place got its name as VENGURLE.
When you visit the temple, you will be welcomed by a specious premises spread over approximately one acre of a land.
Entire structure is constructed using the volcanic stone abundant in Konkan region and is around 50 feet wide and 150 feet in length.
You will be impressed with the overall architecture revealing very interesting and impressive usage of ancient Hindu architecture.
A spherical, proportionate dome adds to the visual appeal of the building and so does the DIPMALA and the TULSI VRINDAVAN in front of the building.
Your search of peace of mind ultimately ends here at Devi Sateri Temple.