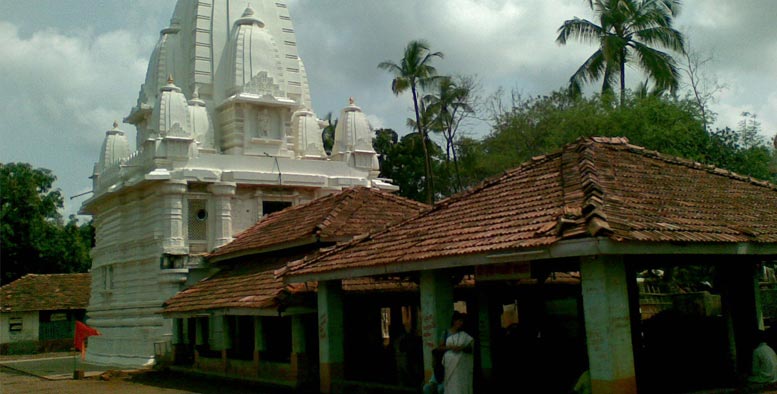 Angane Wadi
Welcome to the Pandharpur of Konkan. Anganewadi in Malvan is more famous for its Bharadi Devi temple and the most popular fair called Anganewadi Jatra which is held annually.
This is the famous "Jaagrut devasthan" situated at Anganewadi, 56 km from Golven Resort vengurla.The name Anganewadi indicates predominance of people with surname Angane. According to a legend a goddess materialized in village in the form of a stone plaque, 400 years ago. Anganewadi is the small hamlet of Masure village. The Bharadi Devi is a very famous for her wish-fulfilling (Navas) power. Her devotees express their wish (Navas) before her and once the wish is fulfilled they come again for her Darshan (visit) to express the gratitude.
The most interesting thing about this fair is its changing date which is finalized by mutual consent in February every year.
The method of arriving at consensus for the day of the fair is interesting. After farming operation are over, the villagers get together to decide the hunting of wild animal, to be offered as 'Prasad' to the goddess. The male folks go out for hunting with a stipulation not to return till the animal is trapped down. The animal's flesh is then cooked & distributed among the villagers who then decide on a suitable day for fair. A decision is taken sitting on a mat (made by peel of bamboo) commonly known as 'Daali' in Malvani lingo. The villager's decision is then known as 'Daalap'.
Don't miss the unique yet interesting rituals at the fair which includes embellishing the stone plaque of the deity with ornaments, mask and new clothing.
Afterwards the village barber standing in front of the temple reflects sunrays over the plaque. There is one more interesting trend which strengthens unity and cooperation among the residents during this fair.
As per this trend one female from each family has to join cooking of food at the temple. A food thus prepared is offered as 'Prasad'. This event is commonly known as 'Taate Lawane (To serve the dishes)' in Vengurla.
You can be the lucky one to join those females to make the Prasad.
On next day, rituals continue till the afternoon. This day is called 'Mode Jatra (End of fair)'. Though the fair thus officially lasts in one & half days, variety of entertainment programs like music, dramas, as a folk were continue for the next 4 to 5 days.
After visiting the fair extend your stay for a day or two and enjoy the interesting sightseeing options of Golven Beach Resort at Vengurla.This small hamlet completely abstains from alcohol. Alcohl consumption is strictly forbidden in this hamlet.If planning to visit Konkan during February, Anganewadi Jatra will be a not to miss programme in your itinerary. Golven Resort will make every arrangement that will make you not to witness but take an active part in every ritual that is performed during fair.May Devi Bharadi fulfill all your wishes and you will be left with only and only pleasant memories and experiences from Anganewadi.