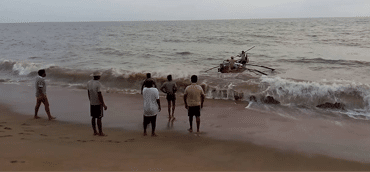 Kalvi Bandar Beach
Kalvi beach is another fishermen's village in the vicinity dotted with palm trees and colorful fishing boats with a backdrop of yet another green hillock.
There is a twin rock half submerged in the sea near this hillock which gives an added attraction.
One can cycle down to Kalvi Beach from Golven Resort
Have a early morning walk with sandal off on the Kalvi beach, when the sky is still dim and feel the grainy sand that comforts your feet.
Walk across the shore; when the tide hit on shore, the spray of water will splash on your skin, that's a very refreshing experience, just like drinking cold water in hot summer days and it drove the worm of sleepiness out of your mind.
The salty air blowing on your face will make you feel wet and cool as it passes by; the fresh and special smelHear no sound of men at the beach but the seagulls peacefully chirp as they soar overhead, singing, and searching for food; the howling wind whistles through the beach like an arriving train; as the crash of the waves thunder through your ears, like a gigantic monster crying out, showing his strength to the world.l of Kalvi beach will leave you with a deep memory.
Its quietness at Kalvi beach you can't here in city, the site you can't see in city. Here you don't have to worry about anything, it wraps away all your stresses; it takes you into nature, as if you are a part of it. How beautiful the beach is! You will feel like you are in dream, in paradise.