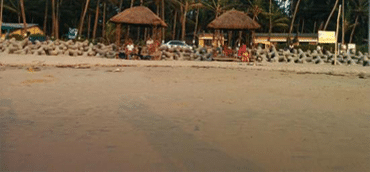 Chivla Beach
May you are a honeymoon couple or a family and wish to avoid crowd, especially if women of the family want privacy while going in the sea; then we recommend you to visit Chivla Beach; as the beach is still virgin… only local populace and seasoned travelers are aware about it.
Just 500 meters away from Malvan, Chivala beach is a delightful place to enjoy a tranquil sunset or a long morning walk. A small arc shaped beach with clean waters with rocky stretches on either end of the arc. The rock garden is very close to the Chivla beach. Its about a hour drive away fro golven resort and a day trip can be arranged to chivla beach for guests.
Feel like home… the entire stretch of 2 km of Chivla beach between Government rest house and rocky jutting is at your disposal with white sand and clear water and absolutely no human beings making it as good as your private beach.
Every shell strewn around in the wave washed sand seemed to have an occupant.
Enjoy sunsets paints Lined by coconut palms swaying in the gentle breeze.
Chivla beach has fisher-folk community living by its side. This is one of the important fishing beach with many fishing boats on the palm lined beach. Fishing that happens in a small scale and with the traditional technique of a net cast out in hauled in manually by two teams of people on the beach a couple of hundred yards apart called 'Rapan'.
The best part of this beach is that it offers you fishing with the "Rapan".
Surprised…? Yes, promise you to have this unique experience of fishing in Arabian sea on your own… Are you ready for it…?