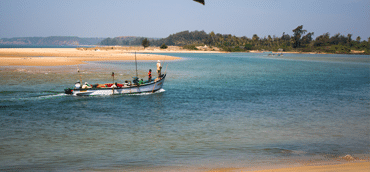 Redi Beach
Are you in search of break from your hectic work schedules? Then Redi beach (Taluka – Vengurle, District – Sindhudurga) is your perfect option…
Originally known as Redipattanam, Redi is located aptly on the shores of the majestic Arabian Sea and is dotted with plenty cashew and coconut trees.
The clean, calm and peaceful beach of Redi can be your preferred choice for a mind and body relaxation lying under the palm tree.
Travel themes ensure your trip to Redi filled with the utmost amazing and memorable beach experiences, picnic with family, delicious food and many more. .
The Redi Beach is a panoramic stretch lined with lovely coconut and beetle nut trees apart from cashew and mango plantations.
Get photo shots of the local fishermen, the boats, the beach, the sand, and the palms, everything mildly touched by sunlight.
Stroll with your loved one on the soft sand of the beach together with sea waves playing music as they lash out against the rocks and the sea eagles flying high, especially at the time of sunset and this can turn out to be the most romantic moment of your life.
As the sun sets right in front of you it is time to savour the traditional spicy Malvani delights. Swimming, walking, paddling at the beach or just chilling out with spicy Malvani cuisine followed up by a visit to the Yashwantgadh Forts and nearby temples of Redi wil be a properly blend programme for you.
Village Redi is famous for Lord Ganesh mandir. 6ft * 4ft. Ganesh statue is very popular amongst the devotees. Ganesh temple, Shri Mauli temple and Swaymbhoo Mahadev temple are other religious places to be seen around Redi.
Yashwantgad fort
This fort bears a vital historic reference due to its valuable strategic position on coast. Constructed by Vijapur's king "Aadilshaha" in 16th century, when Vengurla was the capital city of Vijapur. Later, "Chatrapati Shivaji Maharaj" won this fort. Redi fort was later captured by the Portuguese in 1746. The previous citadel holders, the Sawant clan of Maharashtra, were desperate to regain the fort because of its valuable strategic position on the coast. Redi was eventually returned to the Sawants following a peace treaty, but the success was short lived – in 1765 the fort was captured by the British who later sold the land to local people in 1890 while retaining ownership of the fort walls.