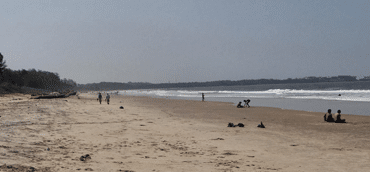 Shiroda Velaghar Beach
At just 19 km away from Golven Resort Bagayatwadi, Shiroda Velagar beach is beautiful lonely serene and pristine beach. The greenery along the beachside is marvelous. Guest staying at resort can bicycle to shiroda beach it's a true adventurous drive.
It is a feast for the eyes of the visitors.
Feel like heaven where you are the only person there (except a few fishermen trying to get lucky with their catch) with nature's utmost beauty… clean yellow sand, sparkling blue waters, cool sea breeze that whispers through the towering plantations on the beach.
Take a short dip, or just lazed around and explore the vicinity and spend a beautiful shiny morning at this beautiful quiet beach sand is literally untouched and undisturbed. The beach is truly called Paradise beach.
Kille Nivati is actually one of the areas ("Wadi" in local language) of Parule village and natural beauty gives this place a different edge. Kille Nivati, as its name suggests is a fort, constructed by great Maratha ruler Shivaji. From this fort, one can observe Bhogave's allevaing beach. Here one can enjoy local cuisuine with desi maska chaska. Currently, this place doesn't enjoy frequent visits by tourists, so one can really devour the untouched beauty of this wonderland. Here one can enjoy local cuisuine with desi maska chaska.
For Dolphin lovers, we have their natural habitat, come and enjoy various dolphin rises early in the morning. The place is a perfect nesting place for beach lovers, Walk on a virgin beach from the nivati hamlet. Enjoy melody of waves throughout a day; lay lazily on white sand….
Visit Kunkeshwar in Mahashivratri, a fascinating long queue waits to bow their head in front of Lord Shiva's idol and seek his blessings. People celebrate and enjoy famous kunkeshwar jatra during which the ambience of temple transforms into a place of merriment of religious prays and glories.
Literary Legend
Shiroda is famous for great Marathi author Shri V. S. Khandekar. It is a place where he worked from 1920 to 1938 as a primary and secondary school teacher. The soil had been a true inspiration for him to write abundant Marathi literature in various forms, novels, plays, short stories, allegorical stories, essays, critiques, and so on …So this place has got its own identity.
Bravery and Patriotism:
We feel proud of our soil, not just been the land of nature and beauty, but nurtured its children with hardcore bravery and Patriotism. Konkan had played its active role for fight for Independence. In 1930 salt Satyagraha took place in Shiroda with the order of Rashtrapita Mahatma Gandhi. Police arrested many protestors trying to rob salt by breaking the fence, nut they couldn't stop them from looting the salt. The satyaghraha was continued till Gandhiji had talks of equality with General Erwin.