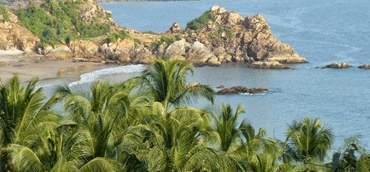 Nivati beach
Welcome to Nivati, a land blessed with natural splendor where is lots to see explore and experience.
Placed in Parule village in Sindhudurga Disrtict, Nivati beach is a secluded cove with a beautiful stretch of white sand beach and a turquoise blue sea to complement it; is without a doubt the main attraction in Nivati. The Nivati fort plays sentinal to this beautiful shoreline and makes a Nivati vacation an unforgetable experiance.
We recommend our guests staying at our golven resort to visit this unexplored piece of land that springs a surprise at every turn you take.
Nivati fort by the seashore impress upon the visitor by its range of rocks situated at its bottom. The rippling perennial springs here content one's mind. Fort also commands the fine view of Bhogwe beach. One can see dolphin droop near Nivati beach; which is amongst the most beautiful beaches in the entire Konkan region.
Nivati rock, about 10 nautical miles into the sea, is a group of three rocky islands and is a haven for explorers in you… not to forget Nivati backwaters…
Nivati is also blessed with a 5 Km long backwater bordering the paddy fields and a cruise in the narrow water lanes of Nivati backwaters displaying the panorama of simple village life is an experience in itself.
Kille Nivati is actually one of the areas ("Wadi" in local language) of Parule village and natural beauty gives this place a different edge. Kille Nivati, as its name suggests is a fort, constructed by great Maratha ruler Shivaji. From this fort, one can observe Bhogave's allevaing beach. Here one can enjoy local cuisuine with desi maska chaska. Currently, this place doesn't enjoy frequent visits by tourists, so one can really devour the untouched beauty of this wonderland. Here one can enjoy local cuisuine with desi maska chaska.
For Dolphin lovers, we have their natural habitat, come and enjoy various dolphin rises early in the morning. The place is a perfect nesting place for beach lovers, Walk on a virgin beach from the nivati hamlet. Enjoy melody of waves throughout a day; lay lazily on white sand….
Burnt island
A bird watchers paradise Burnt island is one of the three main islands off the coast from Nivati. Burnt island is a traditional roosting and nesting site of the Indian Swiftlet, the Edible nest swiftlet and many more species of avian.
Doongoba Temple
For those in search of thrilling trials, we have a perfect hit… Doongoba temple near Kille-Nivati. Walk down the rocky walkway through dense shrubs, prints of water channels, metal bells hanging from everywhere. Excited…? You can make your trail more yummy with ready to eat Ratambe (it's soar fruit from which kokam sharbat is prepared) and delicious Bitke Aam. (Small mangoes); right on your way…