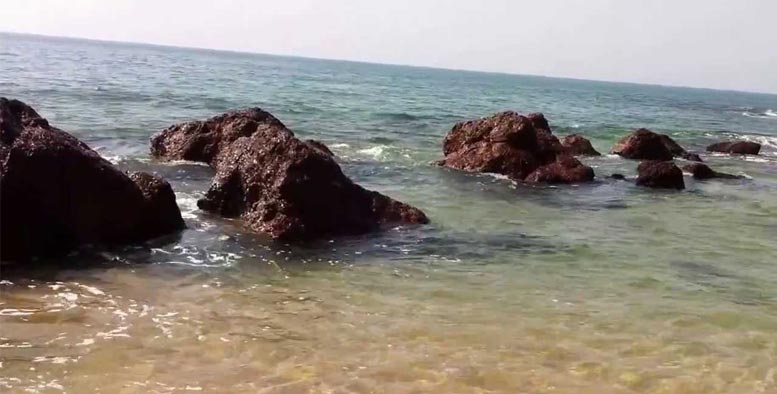 Kunkeshwar Beach
Want to have mystical and spiritual experience along the Seaside? A day trip can be arranged from Golven resort for guests to kunkeshwar which offer you a perfect blend of nature, adventure, history and spirituality… at Kunkeshwar.
Kunkeshwar is a typical Konkani village with a serene feel, sandy beaches and shiny sea water sited 14 Kms from Devgad Taluka of Sindhudurg District in Maharastra, and is famous for its mythological significance.
Most famous as Konkan Kashi or Dakshin Kashi, this pristine beach leads you to the beguiling temple of Lord Shiva, Destroyer or Transformer among the Trimurti, named asKunkeshwar Mandir.
While heading towards the temple, you can't see the seashore. As soon as you go behind, a long stretch of seashore of white sand and crystal clear water welcomes you… that makes a best and real pleasant surprise for you never ever seen… anywhere…
History of Kunkeshwar
The establishment of this supreme deity of Sindhudurg, the Kunkeshwar Temple dates back to 1100 A.D.
It is said that once a Arab sailor travelling in the sea for trade came Kunkeshwar beach. Suddenly havoc appeared in sea; ship seemed to sink in sea. The Arab saw a lamp on the beach. He prayed to the lamp "I don't know who are you, but if you will help me and stop the chaos I will build temple for you." And ship reached the seashore without any problem. Arab noticed a Shivlinga on the sea bank emitting light that saved his life. Arab built a temple, as committed; but he was afraid of being redundant by religion as he was non Hindu. He ended himself from top of temple.
Chhatrapati Shivaji Maharaj was an ardent devotee of the well architected Kunkeshwar Temple.
Visit Kunkeshwar in Mahashivratri, a fascinating long queue waits to bow their head in front of Lord Shiva's idol and seek his blessings. People celebrate and enjoy famous kunkeshwar jatra during which the ambience of temple transforms into a place of merriment of religious prays and glories.
Kunkeshwar is a perfect seaside village, with coconuts (madachya bagayati); it is also acclaimed for the delicious Alphonso mangoes (hapus aambo). Marvellous mangroves nested in the lap of the deep, blue Arabian Sea will entice any tourist. Typical Malvani seafood with speechless and delicious taste is special attraction to food lovers.
You can swim in the clear water at the beach and if you are lucky, you can also get a rare view of dolphins diving in the deep sea.
Kunkeshwar Cave
The temple is surrounded with few other smaller shrine, one of them is been dedicated to Goddess Parvati (Wife of Lord Shiva). The caves, located on eastern side of the temple, were discovered in 1920. Engraved with beautiful idols of Lord Shiva, Parvati, Ganesha and Nandi together with sculptures and carvings male and female warriors in black rock, all these caves are must see places for every visitor.
Natural Shivlings near Kunkeshwar Temple
"Kunkeshwar" is the place where Spiritual powers meet beauty of nature. The sea bears a unique rock with a naturally carved Shivling on it. "ShivLing" … that too on the Sea Rock… Is it our Faith or its Real? Only Lord Shiva Knows…